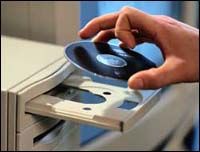 As a locally owned and operated company, we are committed to building long-term relationships with our customers and employees. That commitment is reflected in the way that we continuously invest in our people and technology.
We look for many qualities in the individuals we hire, among them a strong work ethic, a high level of organisational ability and effective interpersonal skills. In addition to an applicant's other qualifications, however, there is one attribute in particular we seek: the desire to provide a high level of customer service.
We can train people to work with technology, but to have a never-ending passion for achieving customer satisfaction takes a unique individual.
If these are qualities you possess, you will find a rewarding career with us. We offer competitive compensation, ongoing training and a dynamic work experience that is both challenging and rewarding. You will have every opportunity to grow with our company.
Current Openings
Outside Sales
Minuteman Press is an international full service provider of print related services and promotional products. We are an individually owned franchise dedicated to providing excellent service and quality to our ever increasing customer base which ranges in size from Fortune 500 corporations to home based businesses. You'll be helping your clients with sales promotions, advertising and incentives as well as business printing.
We are currently looking for an OUTSIDE SALES PERSON.
WE OFFER
-A competitive base salary, car allowance plus a generous commission.
-Potential to earn $35,000 to $50,000 annually, but the sky is the limit.
-Existing accounts, sales leads and target marketing.
-Comprehensive training.
-An exciting, team oriented professional environment.
CANDIDATE MUST HAVE
-Minimum of 2 years business to business outside sales experience.
-Excellent verbal and written skills
-Ability to multi-task and manage your time effectively
-Excellent computer skills
-A vehicle
-Printing sales experience is an asset, however we will train the right person with a strong sales background.
FUNCTIONS
-Develop and manage relationships with existing customers.
-Identify and target prospective clients and establish account relationships through cold calling.
-Contact dormant accounts and reactivate them.
-Develop solution-selling strategies.
Contact: mm@minutemanpress.com or fax to 416-755-2870